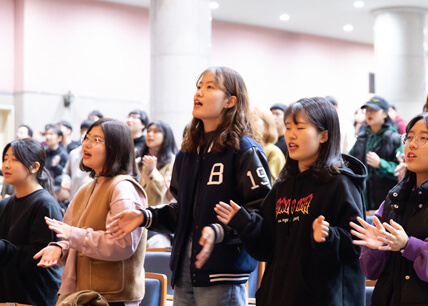 Theology
Educate students to lead community through theory education in school
Introducation
Theology is a special and godly subject, in which we learn the Heavenly God as our father, study the teaching and personality of the Holy Son, Jesus Christ, and pray and try to be like Him through the help of the Holy Spirit.
The course of study includes Old Testament, New Testament, History of Church, Systematic Theology, Moral Theology, Preaching, and Practical Theology, etc.
Goal
to help students increase their basic Biblical knowledge.
to help students who want to become ordained ministers obtain a more comprehensive Biblical knowledge needed in ministry.
to help students who plan to become teachers attain a well-balanced understanding of the Bible needed in teaching.
Certificates
Teaching Certificate for 2nd Level Middle School Religion Teacher.
Career After Graduation
Students can enter theology graduate schools and general graduate schools. They can educate adolescents, middle and high school students and children at churches. This will enable them to acquire leadership and ability to manage personal resources, which are very important qualities in the work places.